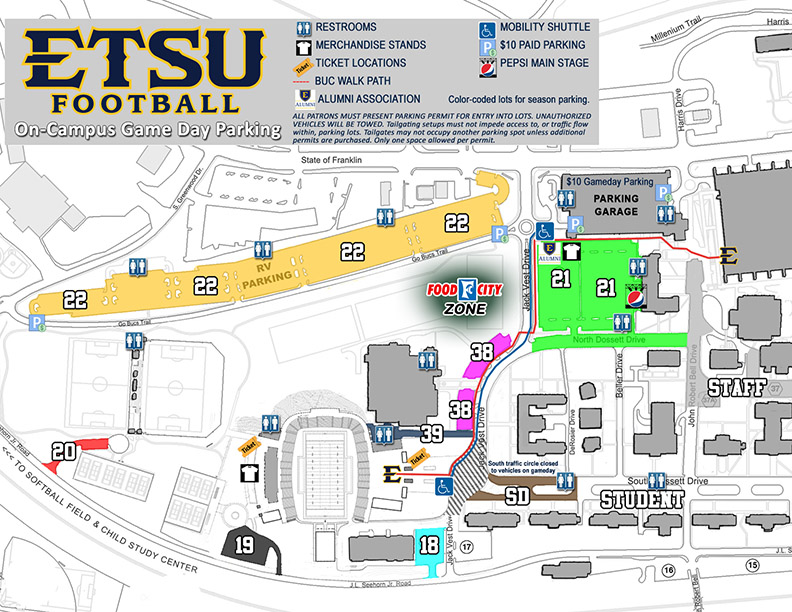 ►

GAME DAY PARKING
All parking lots on the west side of campus are either season permits or paid lots on football game days. Regular ETSU faculty/staff parking decals do not apply.

Season parking permits are $50.00 each and are assigned using Excellence Fund Priority Point rank order. Season parking permit holders in need of handicap-accessible parking accommodations should make note of that when completing their order. (See the Accessible Seating & Parking page for more information.) All patrons must present their parking permits for entry into lots. Unauthorized vehicles will be towed at the owner's expense.

To purchase a season parking pass, you may call the ETSU Athletics Ticket Office at (423) 439 - 3878. 


For fans without a season parking permit, parking is $10.00 per vehicle in either Lot 22 along Go Bucs Trail or the Parking Garage.
 
►

STUDENT PARKING
Student parking is available in the Parking Garage, along South Dossett Drive, Beller Drive, DeRosier Drive, as well as in Lots 15, 16, and 17.  Student organizations can also obtain parking passes for Lot 21 by request through the Office of Student Affairs. A valid ETSU Student ID is required to enter student parking areas.



►

RV PARKING
RV parking is only available in Lot 22. Fans may purchase a season RV parking pass for $100.00.  Per-game RV parking is $50.00. To purchase an RV parking pass, call the ETSU Athletics Ticket Office at (423) 439 - 3878. 



►

TAILGATING GUIDELINES
ETSU welcomes alumni, fans, students, and friends to participate in tailgating activities! Individuals, groups, and organizations hosting or participating in tailgating are responsible for their own conduct as well as that of their guests. All tailgaters are expected to respect the rights of others and should refrain from behavior that infringes upon others' enjoyment of the Buccaneer game day experience. Students are expected to adhere to the ETSU Student Code of Conduct.
Tailgating is permitted on game days in areas designated by the athletics department and at other ETSU events as designated by the Office of the President or designee. Unless otherwise stated, setup can begin at 8:00 am and must be cleared following the game.
Tailgating setups must not impede access to or traffic flow within, parking lots.
Tailgates may not occupy another parking space unless additional permit(s) have been purchased. Only one space per permit.
Be aware when driving through lots. Bikes, motorcycles, skateboards, and scooters are not to be used in tailgate lots.
Glass bottles are prohibited. All beverages must be in plastic or non-breakable cups. Large containers, common drink dispensers, or any device/activity designed to increase the consumption of beverages is prohibited.
Portable radio/stereo units are allowed, however, volume and language should be appropriate for all ages. Platforms, stages, or enclosed tents are not permitted. No staking or tent pegs in paved areas.
No open flames, fires built on the ground, or open fire pit devices are allowed. Propane grills are permissible. Propane tanks are capped at 20 pounds. Fire safety equipment should be available if a grill is in use. Properly ventilated gas generators (max. 1500 watts) are also allowed.
No food/drink sales, solicitation, or advertising without ETSU permit. No food/drink may be brought into the stadium.
Disposal of all trash is required. Items remaining may be discarded and vehicles towed at the owners' expense.
No stadium re-entry after kickoff. ETSU student ID is required for access to student parking and seating areas. Guests should be in possession of a photo ID at all times.
In adherence to university policy, ETSU is tobacco-free. All tobacco usage is permitted only inside private vehicles.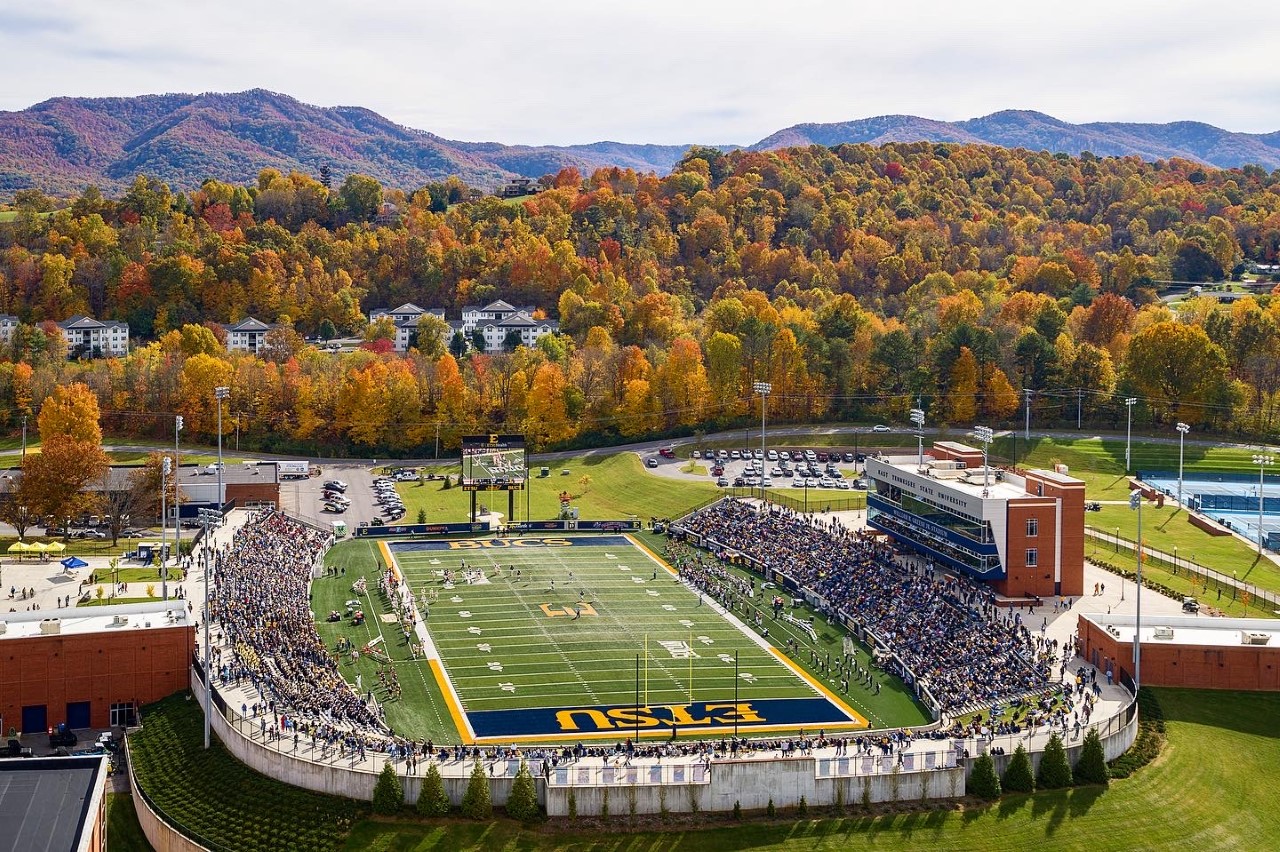 GREENE STADIUM
ADDRESS:
1300 Jack Vest Drive
Johnson City, TN 37614

BUILT: 2017
CAPACITY: 7,694
SURFACE: Artificial Turf
COST: $26.6M

TICKETING NOTES
• Ticket windows open 2 hours before kickoff
• Sales located inside the East Gate arch and NW Gate
• Gates open 2 hours before kickoff
• Cash, check, and credit cards accepted
• Will Call located at East Gate by the arch
• Ticket windows and Will Call close at halftime